Zoë Saldana Is 'Not a Pink Girl'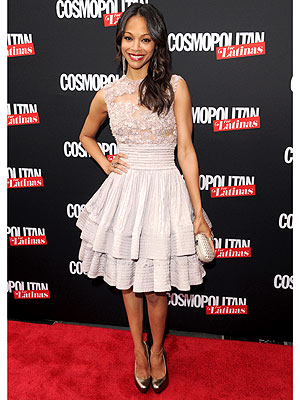 Craig Barritt/Getty
Zoë Saldana looked beautiful at the Cosmopolitan for Latinas launch party in New York last week, but it took some convincing to get the actress into that blush-hued Elie Saab dress.
"This took years for [stylist Petra Flannery] to get me to wear — feminine, pretty colors and pastel," the actress told FabSugar. "I always want things to be hard and poignant but sometimes, you need these things because they mellow you out."
The Avatar beauty relies heavily on Flannery — not just her stylist but also a close friend — to help put together her red carpet ensembles. "She is my must-have," she said. "I work so hard and I am nonstop that sometimes taking time to think about what I am going to wear is overwhelming."
Saldana, also said she's "not a pink girl," is known for her fashion risks, too, so it's not surprising that she describes her style as "unexpected" and "emotional."
That was never more true than at the 2010 Oscars, when Saldana stepped out in a jaw-dropping purple Givenchy gown."Everybody and their mommas told me and Petra that might be a little bit too much," she revealed. "It was a shocker for some and some people needed to be revived after they saw it on the red carpet."
So why did she ultimately choose the gown? "I was happy and I felt like the most beautiful girl in the world that night," she shared. "And that's all I care about."
–Jennifer Cress
VOTE ON STARS' BEST DRESSES IN 'LAST NIGHT'S LOOK: LOVE IT OR LEAVE IT?'
You Might Also Like...