The Fun, Fashionable Details on Beyoncé's PEOPLE Cover Look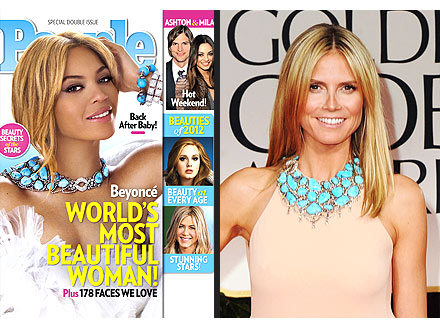 Steve Granitz/WireImage
For her PEOPLE World's Most Beautiful Woman cover shoot, Beyoncé wore something old and borrowed that happened to be blue.
The superstar, clad in an elaborate white Marchesa gown on the PEOPLE cover, wears the same Lorraine Schwartz necklace Heidi Klum selected for the 2012 Golden Globes (Beyoncé chose to wear it backwards). The custom-made piece contains 200 carats of champagne diamonds, plus dozens of natural turquoise stones. When Klum wore it in January, she paired it with matching rings; the whole set was valued at more than $1 million.
"Beyoncé is the most beautiful woman in the world inside and out," Schwartz tells PEOPLE. "Being around her gets my creativity flowing and I'm always thinking of that something perfect just for her. We have made historic jewelry moments together and I look forward to making many more."
Beyoncé, who calls her mother the most beautiful woman in the world, tells PEOPLE she feels even more beautiful now that she's a mom. "It's really about who you are," she explains of beauty, saying her best moments are "When I feel loved, when I feel secure, when I feel confident." But wearing a designer gown and lots of diamonds can't hurt!
For more with Beyoncé — and other beautiful stars — pick up the May 7 issue of PEOPLE, on newsstands Friday.
SEE MORE OF 2012′S MOST BEAUTIFUL CELEBRITIES
You Might Also Like...