Rose Byrne's Stylist Gives the Perfect Blowout How-To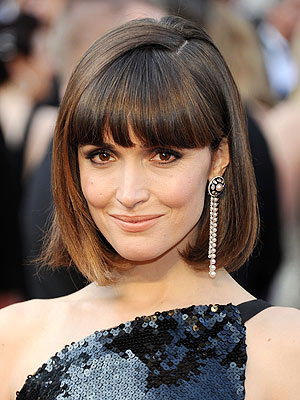 Michael Buckner/Getty
Have a hot date tonight? Maybe a girls' night out? Whatever the occasion, you want your hair to look hot! We recently got a few moments with John Frieda's Harry Josh (he did Rose Byrne's hair for the Oscars) and snagged a few tips on achieving the perfect blowout at home.
1. Prep your hair. "Take a good look at your hair type and identify its weakness," Josh says, citing examples like frizz and lack of volume. When you get out of the shower, treat your hair with a product that targets that weakness.
2. Add heat. Josh suggests tackling your hair one section at a time, separating it into one-inch chunks. "This will ensure that you're getting your hair truly dry, as well as creating the optimum amount of volume and sleekness," he explains. Be sure to use the right brush, too; Josh recommends one with boar bristles, since brushes with metal bristles can get too hot, snagging and breaking hair.
Also be sure to point your blow dryer at the roots, following your brush as you pull hair straight. And don't rush! "You'll spend just as much time going back over your hair if you don't blow it out carefully from the start," Josh warns.
3. Finish flawlessly. Add the appropriate finishers to tame frizz and flyaways, and voilá! If you need a little extra volume, Josh recommends the John Frieda Luxurious Volume Anytime Volume Refresher, spritzed lightly at the roots.
"A perfect blowout can last for days," he says. "Taking the time to do it correctly may be an extra 10 minutes, but you'll have gorgeous hair for at least 24 hours."
STUDY UP ON MORE STAR BEAUTY TIPS & TRICKS!
You Might Also Like...