Meet Pantene's New Girl, Zooey Deschanel!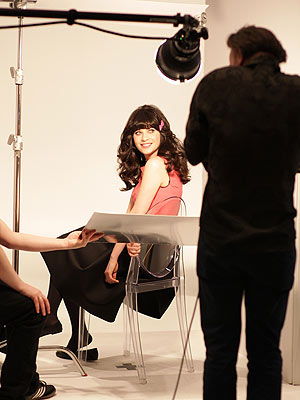 Courtesy Pantene
Who's that Pantene girl? Zooey Deschanel! The actress is following in the footsteps of Naomi Watts and Eva Mendes as the latest face of the beauty brand, representing the Pantene Beautiful Lengths collection in television, print and online ads beginning in August.
"I am so excited to be a part of the Pantene family," Deschanel tells PEOPLE. "Anyone who knows me knows that I am really into hair. I'm a real girly girl and love doing my hair and experimenting with different styles."
The Beautiful Lengths Collection includes Pro-V keratin protection shampoos, conditioners and stylers that prevent breakage and split ends to help women grow their hair longer, according to a release.
"It is really amazing to be representing the Beautiful Lengths Collection," Deschanel adds. "The products are fantastic but they also support the Pantene Beautiful Lengths Program, which is a wonderful cause." In fact, as part of the initiative, the company plans to donate more than $1 million to create wigs for women battling cancer. "They're helping to provide confidence," Deschanel explains. "You can't put a price on that."
Calling the actress a "breath of fresh air," Procter & Gamble marketing director Kevin Crociata says Deschanel is "such a great fit for Pantene. Her captivating personality and distinctive beauty make it hard not to like and relate to her."
Her enthusiasm helps, too; as Deschanel says, "Being a Pantene girl has been a dream of mine since I was a little kid."
PLAY WITH SWEET STAR HAIRSTYLES IN INSTANT MAKEOVER
You Might Also Like...