How Eva Mendes Got Haggard for 'Girl in Progress'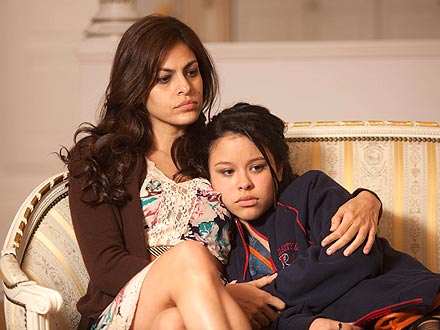 Lionsgate
Just because she's considered a bombshell (and dates Ryan Gosling) doesn't mean Eva Mendes feels the need to be glamorous — especially in her new film, Girl in Progress.
In the movie (which hits select theaters May 11), Mendes plays a single mom who balances work, bills — and an affair with a married man. "Before each take I kept asking [director Patricia Riggen] 'Do I look bad enough?!'" Mendes told PEOPLE Wednesday during a press event in L.A.. "I tell my daughter in the movie, 'I'm tired baby.' So I better look exhausted, you know?"
To get that tired look, the actress had a simple secret: "You know how you're never supposed to rub your eyes if you have black liner or mascara on? I'd get in there and [motions rubbing her eyes] get a real nice tired look," she revealed.
Mendes said her off-set beauty regimen is similar to that of her low-maintenance character. "I'm actually really simple," she admitted. "If you catch a paparazzi shot of me, I'm never done up to go to the mall. I'm not one of those people going through LAX wearing the full outfit."
And though she dubs herself as "not a glam kind of girl," she does know there is a time and place to get dolled up. "I'm going to the Met Ball this Monday, and I will be having some fashion fun," she promised. "But otherwise this is it!"
–Jennifer Cress, with reporting by Melody Chiu
STUDY UP ON STAR BEAUTY TIPS & TRICKS
You Might Also Like...