Helena Bonham Carter on Her Love of Dress-Up … and Those Mismatched Shoes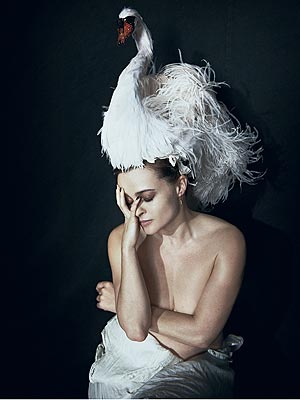 Courtesy Interview Magazine
When asked if she's into fashion, Helena Bonham Carter simply replies, "All I'm into is dressing up."
That could be an understatement; the actress often wears polarizing ensembles — and is quite aware of the negative attention such outfits attract.
Speaking to Daniel Radcliffe in the latest issue of Interview, the Dark Shadows star says clothing often changes how she feels. "I think I transform into somebody else," she explains, "and then you see the photo and go, 'That's so not what I meant …' It's the disappointment after. That's why I ceased to watch myself anymore because I go, 'It's still me!'"
That was the issue with her universally panned 2011 Golden Globes ensemble, a Vivienne Westwood dress with mismatched shoes. "I thought, 'F— it,'" she recalls. "I looked at the dress and thought, 'It's not gonna be well received, so let's just distract.' At least you've got some control, you know?"
That attitude served her well, though; shortly after, Marc Jacobs tapped her for his autumn/winter 2011 advertising campaign. "It was a result of those two shoes," she says proudly.
However, starring in a campaign comes with its own set of fashion problems, Carter admits. "I've been photographed now a long that I sort of feel like I've done all of the expressions," she jokes. "There's a small amount of faces [one can do], and I don't want to become hyperaware of what looks good because it can be creative if you've got a great photographer."
Working with the "brilliant" Juergen Teller for Jacobs's ads made the job easier, though. "It's a relationship," she says of the shoots. "It's very sexy. It's like having a dance with somebody."
And if nothing else, there's always the paycheck to put a positive spin on things. "We … get paid to dress up," she says of acting and its perks. "[And] I love dressing up."
You Might Also Like...