Heidi Klum Is a 'Wash and Wear' Type of Gal
May 12, 2012
|
Posted In: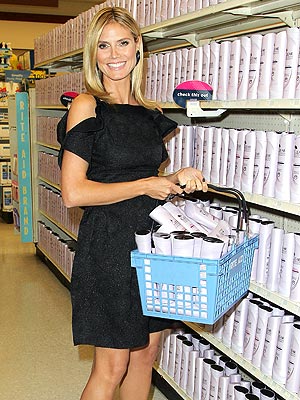 Landov
Four kids and a crazy career mean that Heidi Klum has little time to think about her morning routine. "I'm more wash and wear," Klum, the new face of Clear Scalp Hair & Beauty Therapy, tells PEOPLE. "I just go in the shower, wash and condition [my hair] and just let it air dry." And if she's feeling crazy? "I put my hair behind my ears and I let it dry like that, so when I take it out it has a little bit of a wave."
Sounds simple, but once you start talking color, it gets complicated. "It's a pain," she admits. "Every five weeks I have to get my roots done. Even though now it's cool to have some roots, you can't have seven-inch roots and blonde from there on!"
The supermodel is taking better care of her tresses these days; she was just named the first-ever face of the new Clear product line. "I thought they had a great, different approach to hair care," she says. "I don't think anyone usually thinks about feeding hair from the scalp, but if you think about it, it makes total sense. That's where the hair starts."
Saying the products make her hair soft and sweet smelling, Klum points out that many consumers often buy the wrong shampoo and conditioner. "You need to look at what kind of hair type you are," she explains. "You have to think about not just hydration and moisture, too, because that can make your hair really flat and limp."
Klum has her own secret for adding volume to her locks, but admits it's not the best tip. "I know it sounds horrible, but I feel sometimes [my hair] looks cooler when it is a little bit bedroom-y — and sometimes I literally did just get up," she says of the un-brushed bed-head look. "Sometimes I think it looks better if you wash it right before you go to bed and let it dry when you're sleeping. It goes a little bit all over the place and I like that. And if it's really bad, it just goes in a bun!" Tell us: How do you wear your hair on a daily basis?
–Reporting by Ulrica Wihlborg
TRY ON THE BEST STAR HAIRSTYLES IN OUR INSTANT MAKEOVER
You Might Also Like...