Coco Rocha: How I Chose My Met Gala Outfit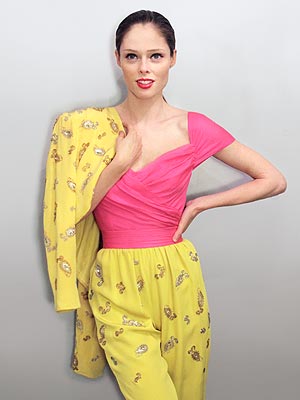 Courtesy Coco Rocha
When Elizabeth Taylor's jewels and couture were up for auction at Christie's in December, model Coco Rocha knew she had to buy something.
"I'm a big Elizabeth Taylor fan: her pictures are iconic and when I was really young, I watched every single one of her movies," the model, 23, tells PEOPLE. "I don't get star-crazy, but if I ever had met Elizabeth Taylor, I probably would've choked."
Though she had her eye on a few items at the Christie's sale, the only outfit she was able to snag was a neon Givenchy pants suit with matching jacket — an ensemble she calls her "Aladdin suit" — which she'll debut Monday night at the Met Gala in New York City.
"I went [to the auction] with a few other girls and all of us were getting these emails from our husbands saying, 'You be good now!' But [my husband] James [Conran] didn't [send one]," she recalls. "I said I was the lucky one, and he was happy for me. This model does not buy designer stuff, but it was very special. I was like, 'Yes, I must!'"
In fact, she treasures her purchase so much that she's planning to wear it exactly as Taylor left it.
"I decided I'm not tailoring anything, because how could you?" she says. "Funny enough, it fits everywhere — except maybe in the boobs — but other than that I was excited I didn't have to touch it."
That includes dry-cleaning. Upon a closer examination of her new outfit, Rocha discovered a red wine stain on one side, but decided to leave it there after some encouragement from the staffers at Vogue magazine, the hosts of the Met Gala.
"They were like, 'It's fine! It's an Elizabeth Taylor wine stain — deal with it!'" Rocha says with a laugh. "If they're pleased, I'm pleased. And it shows she did wear it, in fact!" Visit People.com tonight to see the best celebrity fashions from the Met Gala!
–Lesley Messer
SEE MORE FROM THE ELIZABETH TAYLOR AUCTION
You Might Also Like...