Cameron Diaz Cried After Chopping Her Hair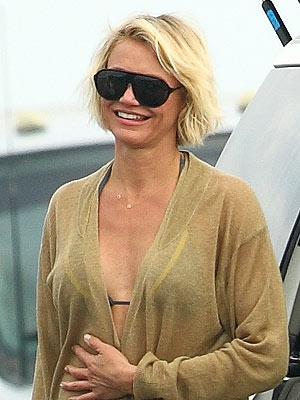 Splash News Online
Cameron Diaz recently told InStyle her short haircut was "freeing" — but she had very different words for Jay Leno Tuesday night.
"There was a little misunderstanding," she explained on The Tonight Show with Jay Leno of her pre-Christmas cut. "I said, 'Oh I just want a little bit off' … and it went from here to here," she added, gesturing two very different hair lengths.
Once Diaz saw the new do, her reaction wasn't so pleasant. "I just burst into tears and started crying, and I felt so vulnerable," she explained. "For a woman to all of a sudden have no hair, oh my god."
What made the situation even more awkward was the fact that Diaz's hairstylist happened to be a good friend. "I felt really bad, she felt really bad, she started crying, I started crying, a couple of other people started crying," Diaz said. But soon the situation smoothed over. "I ended up writing her a few emails after, the next couple days, assuring her I wasn't going to kill her."
As Leno pointed out, it's unique that Diaz gets her haircuts from a friend (in that friend's kitchen, no less) — not at a chic Los Angeles salon. But the actress said she's been getting kitchen haircuts from this friend — and her own mother — for quite some time. She joked, "I'm in her kitchen often with the cape around my neck, going, 'I hope we're not going to cook after that.'" Tell us: Would you let a friend cut your hair?
TRY STAR HAIRSTYLES IN OUR INSTANT MAKEOVER
You Might Also Like...